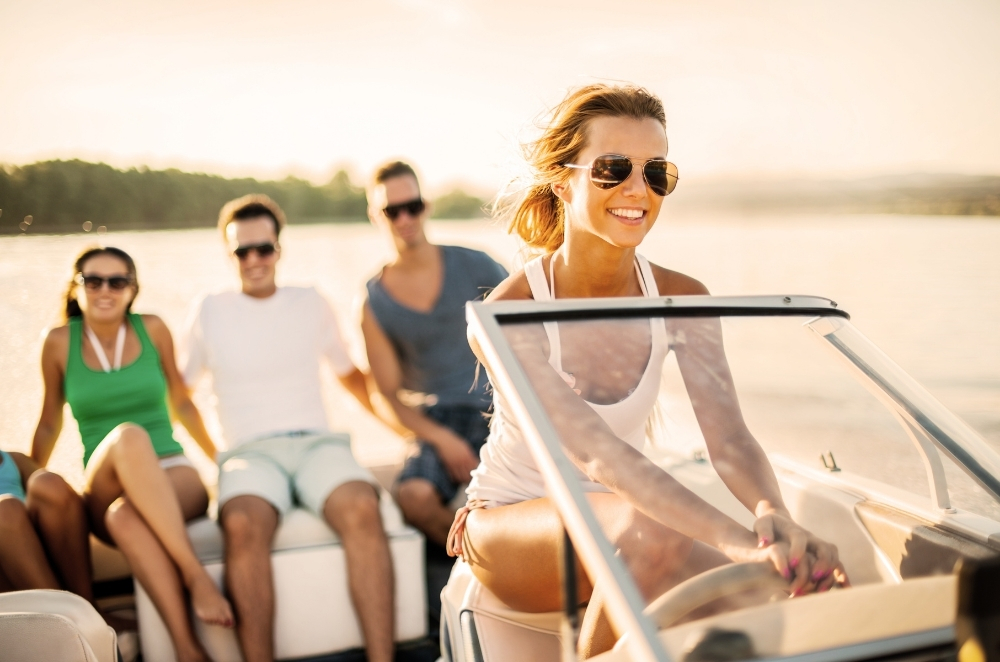 Originally published July 12, 2021.
Now that summer is upon us, more people are enjoying time out on the water along South Carolina's coastline or on one of our state's many lakes and rivers. And for many of us, that means renting a boat for a day or a weekend.
If you will be going out on a boat for the first time, or just the first time in a long time, it's important to make sure you know the legal requirements surrounding renting or operating a boat in South Carolina.
Do I Need a Driver's License to Drive a Boat?
No, a driver's license is not required to legally operate a boat in South Carolina.
Do I Need a Special Boating License to Drive a Boat?
Generally, adults do not need a boating license to drive a boat in South Carolina. However, this isn't true for minors.
Any boater under the age of 16 must complete a state-approved boating safety course before they can legally drive a boat in South Carolina without adult supervision. This applies to any watercraft powered by a motor with 15 horsepower or more, not just boats. For example, this would apply to jet skis.
After completing the boating safety course, the boater will receive a Boater Education Card, which they must keep on them any time they are operating a watercraft and which functions as their boating license. Not carrying the card could result in a fine.
If a boater under the age of 16 is supervised by an adult who is at least 18 years old and not under the influence of drugs and alcohol, they do not need to have taken the course; the course is only required to operate a boat unsupervised.
Do I Really Need to Take a Boating Safety Course?
You are not legally required to take a boating safety course if you are over the age of 16, but we recommend doing so anyway.
Boating accidents can easily result in fatal injuries when drivers are inexperienced. Boating accident deaths come second only to highway crash deaths in order of most dangerous forms of transportation. And according to the U.S. Coast Guard, 74% of boating-accident deaths in 2022 occurred on vessels where the operator had not received boating safety instruction.
Even if you are not required to get a boating license or take a safety course before renting a boat in South Carolina, it is always smart to familiarize yourself with the information covered to make sure that you reduce your risk of a collision or injuries to yourself, your passengers, and other boaters and swimmers.
Where Can I Take a Boating Safety Course?
There are several options available for approved boating safety courses. Classes can be taken at U.S. Coast Guard, United States Power Squadrons, or South Carolina Department of Natural Resources (SCDNR) facilities, but there are also several SCDNR-approved courses available to take online at your own pace.
Many people prefer online courses for the convenience they offer.
What Does the Boating Safety Course Cover?
Boating safety courses typically include:
Basics of operating a boat, including recognizing the different parts of a boat, how to fuel up, cast off, and so on
What safety equipment is required to have on board when boating
Navigation rules and speed limits
What counts as reckless or negligent operation
How to safely tow a passenger when water-skiing or tubing
Dangers of boating under the influence
What to do in an emergency and how to report an accident
Injured in a Recreational Boating Accident?
Having experience and knowing the laws and safety guidelines can help reduce your risk of an injury out on the water, but it can't eliminate that risk entirely. If you've been injured in a boating accident because a boat operator was driving recklessly or while under the influence, they should be held accountable for the pain and harm they've caused you.
You've suffered injuries and incurred huge medical bills, and you don't deserve to have to face them alone. After a boating accident, contact the experienced South Carolina boat accident attorneys at Joye Law Firm for a free case evaluation to learn how we can help you.