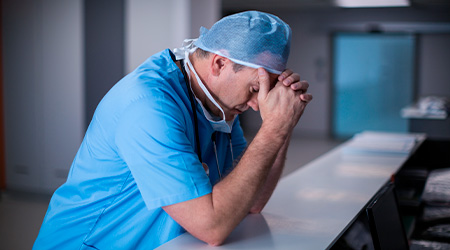 People go to the hospital, urgent care clinic, doctor's office, or another healthcare facility in hopes of getting better. Unfortunately, too many people in South Carolina end up getting worse due to medical errors and other forms of medical malpractice necessitating a medical negligence law firm.
In fact, preventable cases of medical negligence take the lives of nearly 100,000 Americans each year, according to several studies, and roughly one million people suffer some form of injury due to medical malpractice. Many more cases go unreported. To put those figures in context, about 34,000 people die in car crashes each year. That is why a medical injury lawyer is needed.
If you believe that you or a loved one was injured because of medical malpractice, it is important that you talk to a South Carolina medical malpractice attorney. These cases are usually very technical and require sophisticated analysis and review of pages and pages of medical records.
Contact Our Medical Malpractice Lawyers Today
Our South Carolina medical malpractice attorneys at Joye Law Firm can help you through the stress and confusion that follow an injury due to medical negligence. Respect, compassion and care are what you can expect from our medical negligence law firm and staff. Since 1968 we have helped injured people recover not just the money they are entitled to but also their lives.
Let us help you too. Call Joye Law Firm. You can reach us at (888) 324-3100 or fill out an online form for a free case review.
Joye Law Firm has offices in Charleston, Myrtle Beach, Clinton, and Columbia, but our medical malpractice lawyers are ready to take care of your case anywhere in South Carolina. We represent clients all over the state, including Florence, Richland County, Orangeburg, Columbia, Horry County (including Conway and North Myrtle Beach), North Charleston, Mount Pleasant and Summerville.
Experience Counts
Our South Carolina medical malpractice attorneys at Joye Law Firm have nearly 250 years of combined experience helping victims of life-changing injuries in South Carolina. Our medical malpractice lawyers have received an AV rating from the prestigious Martindale-Hubbell, and several have been recognized as Super Lawyers.
While every case is different, and past results are in no way intended to imply that a similar result can be obtained in a particular case, verdicts and settlements previously obtained by a law firm are an indication of the firm's experience when it comes to serious injury cases. For more details about the results obtained for previous Joye Law Firm clients, view our Results on our home page.
Medical Malpractice in South Carolina
Medical malpractice occurs when a medical professional falls short of the standard of care in the treatment of a patient because the medical professional acts or fails to act, resulting in an injury to the patient. Medical professionals can include doctors, nurses, chiropractors, dentists, surgeons, physician's assistants, pharmacists, and more.
In addition to the individual who made the mistake, injured patients can also bring a lawsuit against the hospital, medical practice, clinic, nursing home or other medical institution that employed the at-fault professional.
In order to prove a medical malpractice claim, the injured patient must show that:
There was a relationship between the medical professional and the patient, giving rise to a duty of care;
The medical professional breached the duty of reasonable care; and
The patient was injured as a result of the breach of the medical professional's duty of care.
That means that it is crucial that the patient suffered some sort of injury. If there was a mistake but no harm, there is no compensable claim. However, in many instances, medical malpractice causes serious, life-changing injuries, and even death.
Some of the medical malpractice damages that an injured patient might be able to recover include:
Medical costs to repair the damage caused by the negligent act, including future and ongoing medical costs
Lost income
Pain and suffering, disfigurement, mental anguish and other non-economic damages
A spouse's loss of consortium
Punitive damages (in exceptional cases)